Photo by: Lily Lancaster Photography
Hello to all you lovebirds out there planning your dream wedding! While Saturday has traditionally been the go-to day for weddings, more and more couples are opting for the charm of a Friday celebration. But how do you ensure your Friday wedding is nothing short of perfect? Don't worry, we've got you covered with FIVE fantastic ways to make it a memorable affair!
1. Send Save-the-Dates Early
Planning a Friday wedding means being considerate of your guests' schedules. With the workweek in full swing, giving them plenty of time to plan is essential. Send out your save-the-dates earlier than you would for a Saturday wedding. Ideally, aim for around 6 to 8 months in advance, so your loved ones can mark their calendars and make necessary arrangements.
Consider sending digital save-the-dates for a quick and eco-friendly option, or get creative with traditional paper ones. These cards set the tone for your big day and can reflect the unique vibe of a Friday wedding. Plus, it gives your guests a sneak peek into the fun they can expect!
2. Plan a Memorable Cocktail Hour
One of the perks of having a Friday wedding is that it naturally lends itself to a fabulous cocktail hour. After a week of hard work, your guests will be ready to unwind and kick off the weekend with a bang. Plan a memorable cocktail hour that gets everyone in the party spirit.
Craft a signature cocktail that represents you as a couple, and serve delicious appetizers to keep those hunger pangs at bay. Incorporate games, like a personalized trivia quiz about the bride and groom or a DIY photo booth, to get the good times rolling. By starting the celebration off on a high note, your Friday wedding will be anything but ordinary.
3. Offer A Late Start Time
One of the great things about a Friday wedding is that it kicks off the weekend right. Guests may be coming to your nuptials after their workday has ended which means a later start time would be ideal. Imagine having an early evening ceremony with a moonlit reception. It's your day, and it will be magical under the stars! Make sure to communicate the timing clearly on your invitations and wedding website, so everyone knows when to be there.
4. Create a Comfortable Atmosphere
Since your Friday wedding may be a bit more relaxed in terms of timing, it's essential to create an atmosphere where your guests feel comfortable and ready to celebrate. Consider setting up cozy lounge areas where people can relax and chat, providing comfortable seating and ambient lighting.
Whether you're having an intimate gathering or a grand affair, think about incorporating elements that exude relaxed luxury. Candles, fairy lights, and soft fabrics can turn any space into a warm and welcoming haven, making your Friday wedding feel like the perfect transition into a weekend celebration.
5. Keep the Weekend Vibes Going
As the night goes on and your Friday wedding transforms into a weekend soirée, keep the weekend vibes going strong. Plan a late-night snack bar with all your guilty pleasures – from gourmet popcorn to sliders or even a nacho station.
Include entertainment that keeps the energy high, such as a lively band or a DJ spinning your favorite tunes. And don't forget to have an after-party plan in place for those who want to continue the fun into the early hours of Saturday morning. Consider reserving a block of hotel rooms nearby, and let your guests know about the after-party location so they can keep the celebration alive.
---
A Friday wedding can be a delightful departure from the norm, adding a unique charm to your special day. By sending out save-the-dates early, planning a memorable cocktail hour, offering a late start time, creating a comfortable atmosphere, and keeping the weekend vibes going, you'll ensure that your Friday wedding is absolutely perfect.
We adore Friday weddings at FIVE Event Center. The hustle and bustle of a Friday is the perfect segway to your wedding celebration. Let us host your special day in our historic and charming venue in Uptown, Minneapolis. Our dual-level event venue is the ideal spot for your ceremony and reception. Conveniently located in Minneapolis, there are numerous hotels nearby making accommodations for out-of-town guests easy. Plus, our award-winning caterers will ensure your guests are satisfied with the tasty meals and beautiful presentation.
So, here's to all the engaged couples embracing the magic of a Friday wedding! May your big day be filled with love, laughter, and the start of a fantastic weekend of celebration. Enjoy every moment, and let your love story shine brightly. Contact us today to get started planning your Friday wedding.
---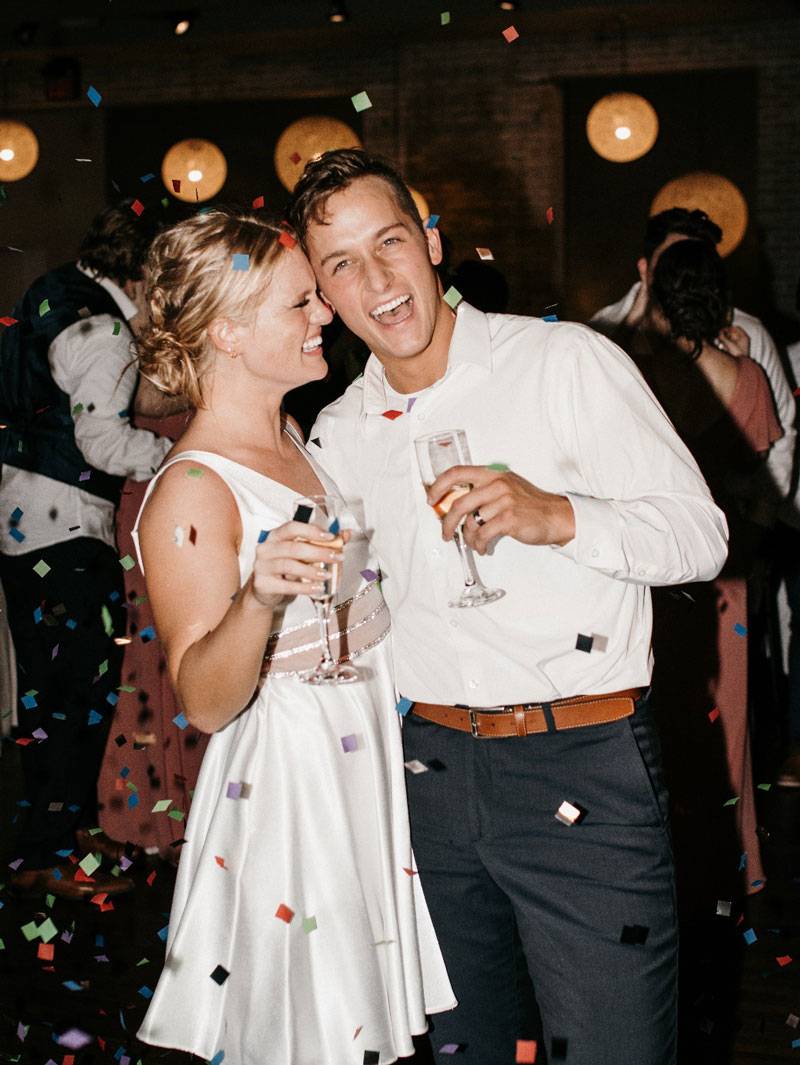 Photo by:  Alexys N Photography