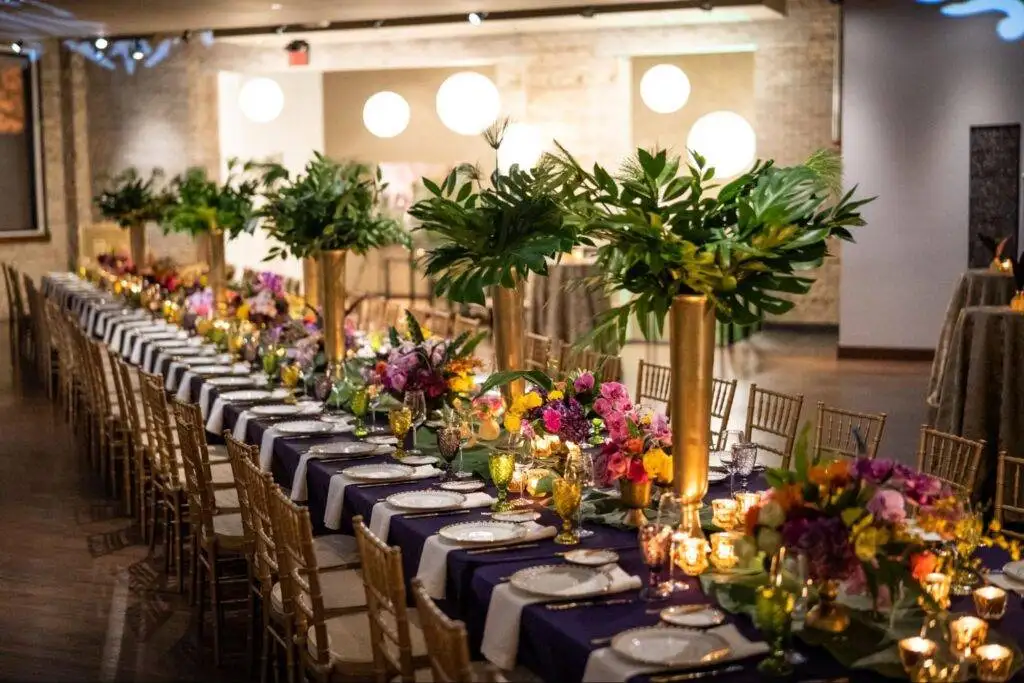 Ready to shake up stale corporate events? Hosting a corporate event doesn't have to be boring. Employees will look forward to an exciting change of pace. If you are planning a company-wide holiday party, a corporate seminar, or an employee appreciation event, it is time to get creative with your corporate event. Employees, patrons, and clients will feel appreciated and reinvigorated with an event that is unique, well planned, and fun! Get everyone at your company out of their routine and give them something to look forward to when you host your next corporate event at FIVE Event Center.
Choosing A Historic Venue Filled With Modern Conveniences
The first and most important way to make your next corporate event memorable is with an exceptional venue. When you choose to host your event at FIVE Event Center, you will be treating your guests and employees to two beautifully lit floors of our gorgeously renovated event space. At FIVE Event Center, we have retained all of the historic charm unique to the original building with the amenities that make hosting a corporate event easy and hassle-free. Our classic brick exterior boasts all of the elements that Minneapolis residents have admired for years. This same charm is carried into the interior. Both of our floors feature exposed brick and antique hardwood floors.
Flexible Space
Depending on the size of your event, the specific requirements of your guests, or your company's itinerary, you are going to want a space that you can tailor to meet your needs. FIVE Event Center's two floors are endlessly customizable. As the perfect blend of historic and modern, our spaces feature a charming atmosphere with the convenience of modern amenities
Our Amenities
In addition to the beauty of our building, FIVE Event Center offers an incredible array of services and amenities that allow you to host your corporate event with ease.
Professional venue manager who will help you in planning and executing your event
Audio Visual System, perfect for presentations, music, or speeches
Unique wall lighting designed to create the perfect atmosphere to match the tone of your event
High-speed wireless internet access, so you don't miss out on important communications
Two full-service bars, one on each level
Bar glassware, equipment, and accoutrements, with customizable bar packages, provided by one of our catering partners
Assortment of tables, chairs, and additional furniture, meaning that you will save on your budget by skipping outsourcing furnishings from a vendor
Complimentary use of adjacent parking lot after 5 pm on weekdays, which means your employees and guests have a convenient place to park
Modern single stall bathrooms
Stairs and elevators ensure that everyone can access the event safely
Self-serve or staffed coat check
A quaint outdoor patio
Choose A Fresh Theme
Once you have secured your venue, it's time to get creative. Your employees and guests will enjoy a party that has a fresh theme! You can do the traditional 70's disco night or 80's prom party, but we have put together some suggestions that are a little more interesting.
Wine Tasting
Our gorgeous interior is the perfect backdrop for a wine tasting! You can select bottles of wine from our bar service for the tasting. Our experienced bar service vendor will handle the rest for a night of elegance. Set up stations around the interior rooms or utilize our outdoor patio for the winery experience without the exorbitant price tag.
Music Festivals
Turn one or both of our two floors into your own private concert venues! You can bring in outside performers to spice up the evening. Upon entry, give your employees wristbands and set up lounge stations throughout the venue for an authentic experience. Take advantage of FIVE Event Center's preferred vendor list and book a photo booth or create a custom photo wall.
Tropical Oasis
Make good use of the out-of-office signature with a miniature tropical vacation! Craft some signature tropical drinks for the evening and even source some fresh flowers for an authentic feel.
Carnivals
Want an unforgettable evening that's lighthearted and fun? Be the ringmaster of your company's own carnival themed evening!
You can set up classic carnival games like ring toss, bring in a fortune teller, or even book acrobats. Your employees will love this opportunity to loosen up and get festive.
Creative Cuisine and Food Bar Ideas
FIVE Event Center partners with the premier catering companies of Minneapolis. We recommend working with them to create your dream spread. Whether it's a slider bar, a taco stand, or a donut depot, the combinations are endless.
Get Creative With Out of The Box Team Building Activities
An easy way to establish camaraderie and facilitate discussions among employees is to incorporate innovative and unexpected team-building activities.
Some of the more unique options include building-wide scavenger hunts or setting up an obstacle course. You can even schedule an event to mark the end of a team-building project cycle, where employees come together to celebrate their dedication to charity.
Hassle-Free Corporate Events
In addition to the stunning atmosphere for your event, you and your employees will also experience FIVE Event Center's commitment to customer service. We are dedicated to ensuring that coordinating an event is a hassle free process. Backed by years of experience, a wonderful list of vendors, and attentive staff, at FIVE Event Center, you will be able to enjoy the event as much as your guests.
Call FIVE Event Center to help you plan your unique corporate event in our venue!
Planning a corporate event at FIVE Event Center is a guaranteed way to ensure that your next function is exciting and streamlined. Our staff has been assisting clients in Minnesota to host the event of their dreams. Our charming facility, coupled with a suite of amenities and services, allows you to get creative with your corporate event. Contact us today to work with our experienced event planners, who will get you started today!