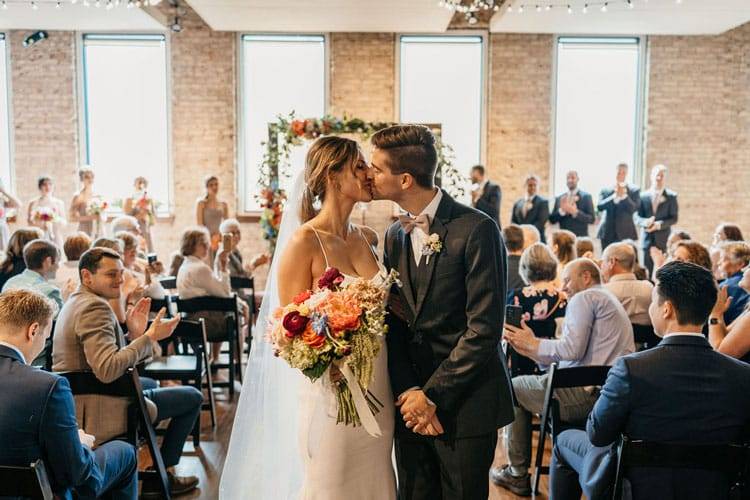 Photo: Katie Lee Photography
1. Choose a venue that fits your vision
While you may have all the details of your wedding thought out down to the linen napkin colors, the most important decision you can make is the wedding venue. Make sure to choose a space that fits your vision and will make a beautiful backdrop for your wedding photos because you'll be admiring those for years to come.
First, you should ask yourself what style you want for your wedding day? Rustic, modern, city, barn, or bohemian? Choose a wedding venue that feels like the style you're going for. You wedding is an extension of you and your personalities, after all. Your venue choice should reflect you and your partner's personalities and the vibe you want for your wedding day.
Secondly, where do you plan to have your ceremony? It's a growing trend to have your ceremony in the same location as your reception. A trend or not, this makes for an extra convenient event for your guests! Everyone on your guest list can stay in the same location for both events of the day and enjoy a cocktail while the ceremony space is being flipped. If this is of interest to you, choose a venue that can accommodate both your ceremony and reception with a seamless transition.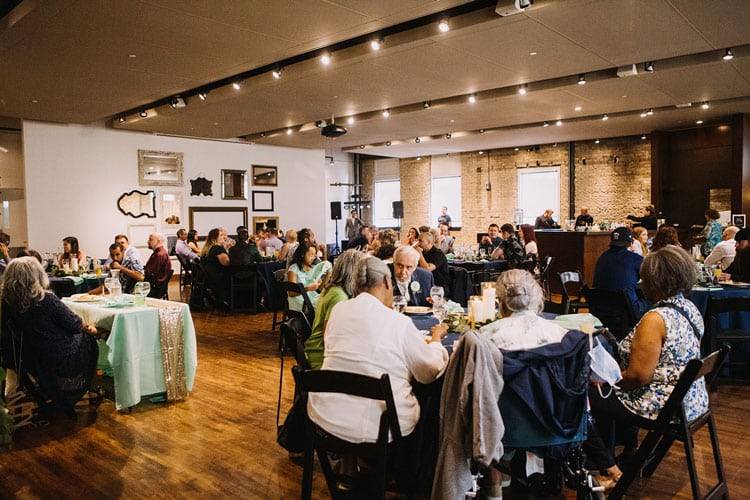 Photo: Eileen K. Photography
2. Consider your guest list
When selecting the ideal venue, you want to consider the size of the space. Make sure the venue fits the number of people from your guest list. It should feel not too big and not too small for the length of your list. The space should feel full without being cramped. There's nothing more uncomfortable for your guests than to be dressed to the nines just to be bumping into other guests the whole night.
On the flip side, you don't want the venue to feel cavernous. It will make your event feel like no one showed up if the venue is too large for the number of guests on your list. You're shooting for a sweet spot that can be hard to determine. Ask the venue manager not only what the capacity is, but what they think the ideal number of guests are for the space.
Photo: Katie Lee Photography
3. Budget
Remember that the venue is sometimes just the venue. Rental of a venue space usually doesn't include chairs, tables, linens, catering services, or décor. These items can add up and greatly affect your budget for the big day.
Choose a venue that is naturally beautiful and has unique features. Think hardwood floors, exposed brick, historic architectural features, unique lighting, etc. These features together build a venue that is stunning no matter the event and calls for minimal additional décor, saving you hundreds in your budget!
Some venues are more inclusive and have tables and chairs included in the rental of the space. Additionally, venues typically have a preferred vendor list that they offer you for catering and beverage services, entertainment, décor, and more. Venues put together a preferred vendor list because they've worked with these companies countless times and they know that they provide a great service and leave clients happy. When the vendors do great work, that reflects positively on the venue. Plus, using vendors outside of this list could cost you extra fees.
Photo: Life and Art Photography
4. Location. Location. Location.
Not only should you think about the style, size, and cost of the venue but don't forget to consider where it is located. You may want to find a venue that isn't too far away from the airport if you have guests flying in, for example. A countryside barn wedding can be tough to find transportation and hotels nearby.
Choosing a venue that is located in a central location makes it extra convenient for your guests. This will set them up for easier accommodations overall and cause you less stress to find accommodations for everyone.
Photo: Madeline Miller Photography
5. Amenities
Not every venue is built the same or offers the same amenities. A barn venue may not have air conditioning turning a beautiful day into a sticky one, or a historic venue may not have elevators which might make it tough for grandparents to move about. Ask the venue about their list of amenities and ADA accessibility. Thinking about these details before you book will make your guests feel considered in your big day.
In addition to the accommodations and accessibility for your guests, you will want to know the full list of amenities for your wedding party and your use, like an AV system you can use for speeches or dressing room suites for your wedding party to get ready in pre-ceremony. The more amenities the venue offers the less you have to spend on extra vendors to provide these services on the day of.
---
Finding the perfect venue can feel like a daunting task but it doesn't have to when you know what to look for and what to ask before you book. If you're looking for a venue in the Twin Cities area, FIVE Event Center is for you!
---
FIVE Event Center
FIVE Event Center is a dual-level venue in the heart of Uptown Minneapolis. Our space can accommodate up to 200 guests for your ceremony and seated reception or up to 400 for a cocktail style reception. The venue is equipped with an elevator for easy access to both levels, 8 bathrooms, and a coat check to make your guests feel comfortable. With a bar on each level of the venue, your guests will love the convenience. Our newly expanded and remodeled lobby has a classic feel in our modern space and is perfect to host your guests for a cocktail hour while the second-floor transitions from the ceremony to the reception setup.
Inquire today to meet our venue manager and schedule a tour. You'll fall in love with our venue!