There is a lot to think about when planning a special event. No matter the occasion, there are some crucial items to consider to ensure your event is a smashing success! Read on for our five must-haves for hosting the perfect event.
The Perfect Venue
The location of your function will have a larger impact than you realize. Book a venue that is the perfect fit for your special event in every way! Consider the size, location, and overall vibe the space provides. Does the space fit your type of event? Is it versatile enough to customize and fit your needs? Is it spacious enough for your guest list?
Located in the heart of Uptown, Minneapolis, guests will enjoy the modern city vibe of our space at FIVE Event Center. Our newly expanded first floor almost doubles the space so your guests have room to mingle and relax in our luxurious new seating. We can accommodate up to 200 people for a seated dinner or up to 375 people (utilizing both levels) for a cocktail style reception.
Your event rental will include both of our levels so you can have multiple happenings at one time, or use the lower level for your cocktail hour while the top level is prepared for your reception. Our versatile yet stunning space is the perfect backdrop for your event and can be customized for any type of occasion from weddings to fundraising galas.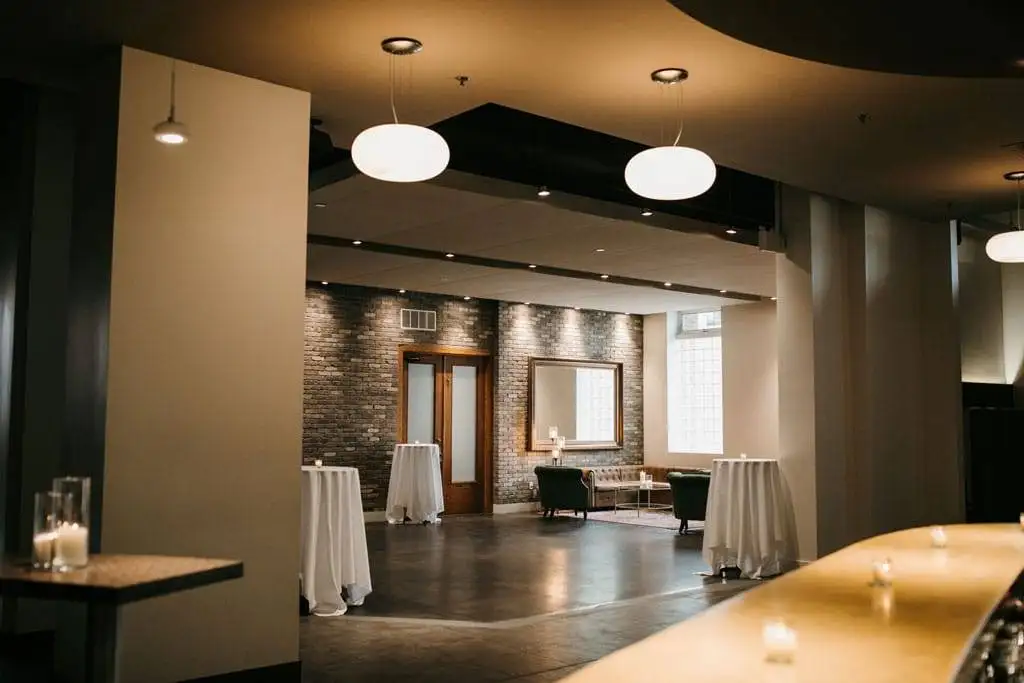 The Right Ambiance
Any great venue will be adaptable so you can customize it to your style. By adding drapery, lighting, florals, centerpieces, and place settings, you can curate an environment that fits your special event perfectly!
Check out our list of preferred rental and décor vendors that can help to make your gathering magical. Our list is compiled of trusted partners that we've worked with for countless events and have proven successful through their gorgeous work and happy clients, time and time again.
Delicious Catering
You may be bringing people together to raise funds for an important cause, celebrate your nuptials, or catch up with each other at a family reunion. No matter the occasion, folks will be looking forward to enjoying delicious food! Consider our catering partners for delicious hors d'oeuvres for your cocktail hour, entrées, and desserts. Our catering partners also have full beverage services so you don't have to worry about the bar!
Refreshing Cocktails
Speaking of beverage service, we have a full-size bar on each level of our venue that makes getting a cocktail so easy for your guests! They will love not having to wait in line for a refreshment and be able to spend more time mingling with others and enjoying the event. Add your personal touch to the bar top with florals, candles, or a list of custom cocktails that the professional bartenders can mix up for guests.
Entertainment
Guests will stay longer and have more fun if great entertainment is at your event! Whether it be a DJ, live band, photo booth, karaoke, or even a professional speaker or comedian, your guests will love the opportunity to have a full night out on the town and check all the boxes: great food and drinks, a beautiful venue, and fun entertainment. Your guests will likely stay longer and enjoy themselves more with the right entertainment.
---
FIVE Event Center is the perfect venue for your next special event. Located in the heart of Uptown, Minneapolis, it is convenient for guests to get to and have a great time. FIVE Event Center boasts an eclectic charm of historic Minneapolis architecture mixed with modern amenities and characteristics throughout. Contact FIVE to take a tour and get started on planning your special event today.
---