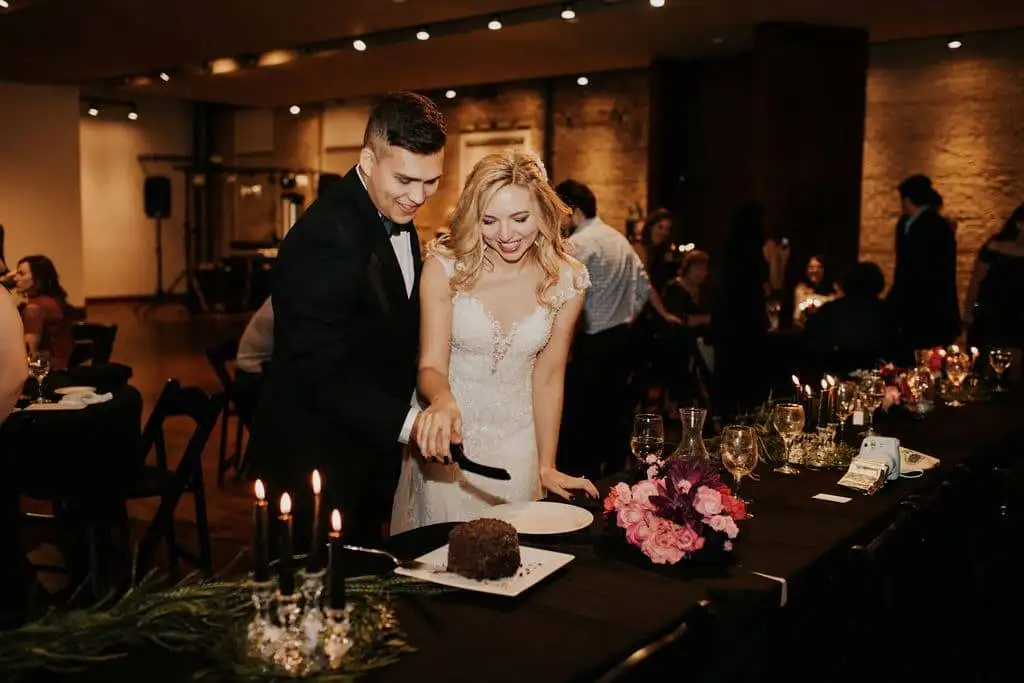 You've dreamed of your wedding day your entire life and want everything to run seamlessly. It's a great idea to create and maintain a timeline of events at your wedding reception that keeps the fun going from one event to the next. Here's a look at a successful timeline:
Cocktail Hour
Allow for 1 hour
Following the ceremony, you can transition your guests into the reception with a cocktail hour. While the guests kick off the party with socializing, drinks and maybe appetizers, you and the wedding party can refresh and take photos together.
Invite Guests Into Dinner
Allow 15 minutes
If you're having live music or a DJ, you can task them to help you stay on this timeline by announcing each transition. If you don't plan to have live music or a DJ, you can ask a family member to help you make the announcements throughout the evening.
Make an announcement for dinner. This gives guests the chance to move from one location to the next and find their assigned table.
Make Your Entrance
Allow 5 minutes
Announce the arrival of the wedding party. This announcement introduces you for the first time as a married couple! You can make your grand entrance to a favorite song to build the excitement of the moment.
Enjoy the First Dance as a Married Couple
Allow 5 minutes
Segway from your grand entrance into the first dance. You already have everyone's attention, which makes for an excellent time for a couple's first dance together.
Welcome Toast
Allow 15 minutes
With all eyes on you, it's time to welcome your guests and thank them for sharing in your special day. You can ask a family member or two to give a brief toast.
Time to Eat
Allow at least 45 minutes
Whether it's a morning, afternoon, or evening wedding, it's customary to serve food to your guests. This can be butler passed hors d'oeuvres, buffet-style meal or a plated dinner. Depending on the service style you go with, the dinner can vary in length of time. For example, you can expect a buffet-style meal to take longer as people wait in lines to get their food.
Toast From the Best Man and Maid of Honor
Allow 10 minutes
It's traditional for the best man and the maid of honor to offer a brief toast to the newly married couple. As the meal comes to an end, the toasts can seamlessly end the mealtime.
Parent Dance
Allow 10 minutes
At most weddings, the dancing is started with a special dance featuring the bride and her father and the groom and his mother. If you want to honor this tradition, this is the time.
Everyone Hit the Dance Floor
Plan for 2 hours
As the parent dances come to an end, it's time to open the dance floor up to all of your guests and really get the party started! Some people will dance while others socialize. After the tables are cleared, you can expect some guests to take a break from tearing up the dance floor to have a drink and relax. You can opt for a DJ or live band for the music.
Cut and Serve the Cake
Allow 10 minutes
At the midway point in the dancing, take a break to cut the cake. It's a great time for the band or DJ to take five along with the tired dancers. You can serve dessert and coffee for a second burst of energy.
Last Song
Allow 5 minutes
As the evening winds down and you get ready to head off into the sunset, it's time to announce the final song of the night. This last song helps your guests get ready to end the party.
Grand Exit
Allow 10 minutes
At the end of the reception, the married couple makes their grand exit with well-wishers lining the path. Whether you choose sparklers or bubbles, it's a magical time to head off into your happily ever after.
Your wedding day is one of the most exciting of your life, and you want the reception to run smoothly. Using this guide can help you build a seamless timeline for your big day. We always recommend to our clients to take this guide and start from the end of your event and work the timeline backwards for what will work best for you. Our guide can and should be customized to your event! You're planning a fancier 5-course meal? Dinner may take longer than 45 minutes and that is ok! Ask your vendors and our venue manager for help planning your timelines! We are happy to share what has worked for other couples in the past. At FIVE Event Center, we'll partner with you to create your dream wedding and reception. Contact us to learn more.
Photographer Credit: Ivory North Co